Kuu'Raaka
My Kuu'Raaka are from Raven at Kurrama Valley!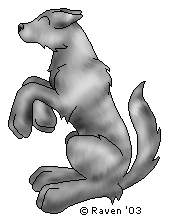 Stats
Name: Reshallon
Sex: Male
Color: White Tyger
Fur: Long


Resh, as he is sometimes called, is a playful young male with an easily discernable zest for life. His long fur is silvery in color and he delights in making it shine. One of the highest compliments one can pay him is to say something about how beautiful his coat looks. However, this streak of vanity does not impede his judgement of others. He will not tolerate being around aggressive or gloomy individuals, but will instead try to associate with the brightest and happiest Kuu'Raaka. This enthusiasm sometimes makes him a bit much, but is usually an excellent means of drawing friends to him.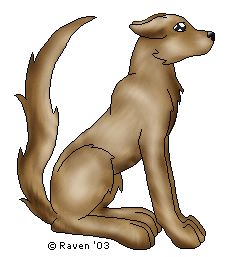 Stats
Name: Saranis
Sex: Female
Color: Caffe'Ole
Fur: Long


Saranis' personality is a compliment of Resh's. Where he is boisterous, she is quiet and shy. Sar is attentive to the needs of others and makes an excellent listener. She does not often put forth her own opinion, but will not back down when she truly believes she is right. Her sweet disposition gives her a motherly affect that provides quiet support and security for her companions. When presented with a situation full of danger, she will defend her loved ones as necessary without thought of herself.